Directions to NAIL Benefit Auction/Concert
Welcome to DigNit! Are you Diggin' it?
A Benefit Concert for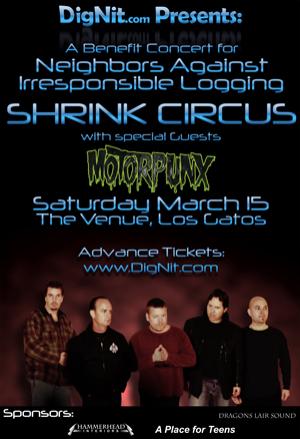 Neighbors Against Irresponsible Logging
Featuring:
Shrink Circus - Click Here
with special guests
MotorPunx - Click Here
Saturday March 15th
The Venue, Los Gatos
Doors Open at 7:00
Show Starts at 8:00
Tickets: only $10.00 Click Here to Purchase.
All ticket and food concessions will be donated
to NAIL.
Our Previous  Events- 
 The Fight's Not Over!   You are cordially invited to...

A Benefit to
SAVE THE LOS GATOS CREEK WATERSHED!
Sunday, March 25, 3:00 to 7:00 PM
at the Redwood Estates Pavilion
21450 Madrone Drive
Redwood Estates
See NAIL Home Page for more info
Directions to Redwood Estates Pavilion:
From Los Gatos: Take Highway 17 South toward Santa Cruz, In approximately 5-8 minutes you will see a small sign which says "Redwood Estates" (Redwood Estates to the right). Take this exit. (If you got all the way to Summit Rd, you went too far up Highway 17, you would need to turn around at the top and follow the directions below, "From Santa Cruz"). Exit Right off Highway 17 as indicated. Then take an immediate Right turn up the hill and follow the signs.
From Santa Cruz: Take Highway 17 North toward Los Gatos. Go past Summit Rd down the hill toward Los Gatos. In only about 1-2 minutes after the summit, take the "Redwood Estates" exit to the right off Highway 17. (This is indicated by a small sign: "Redwood Estates "). Go slow, the right turn when exiting is a very sharp slightly downhill right turn. In a couple of hundred feet, you will see a sign pointing to the right that says; "Redwood Estates/Santa Cruz", follow the road around to the right, under the overpass and follow the signs.